Classification / skill levels
10 levels for skiing with Penguin BOBO's Kids-Club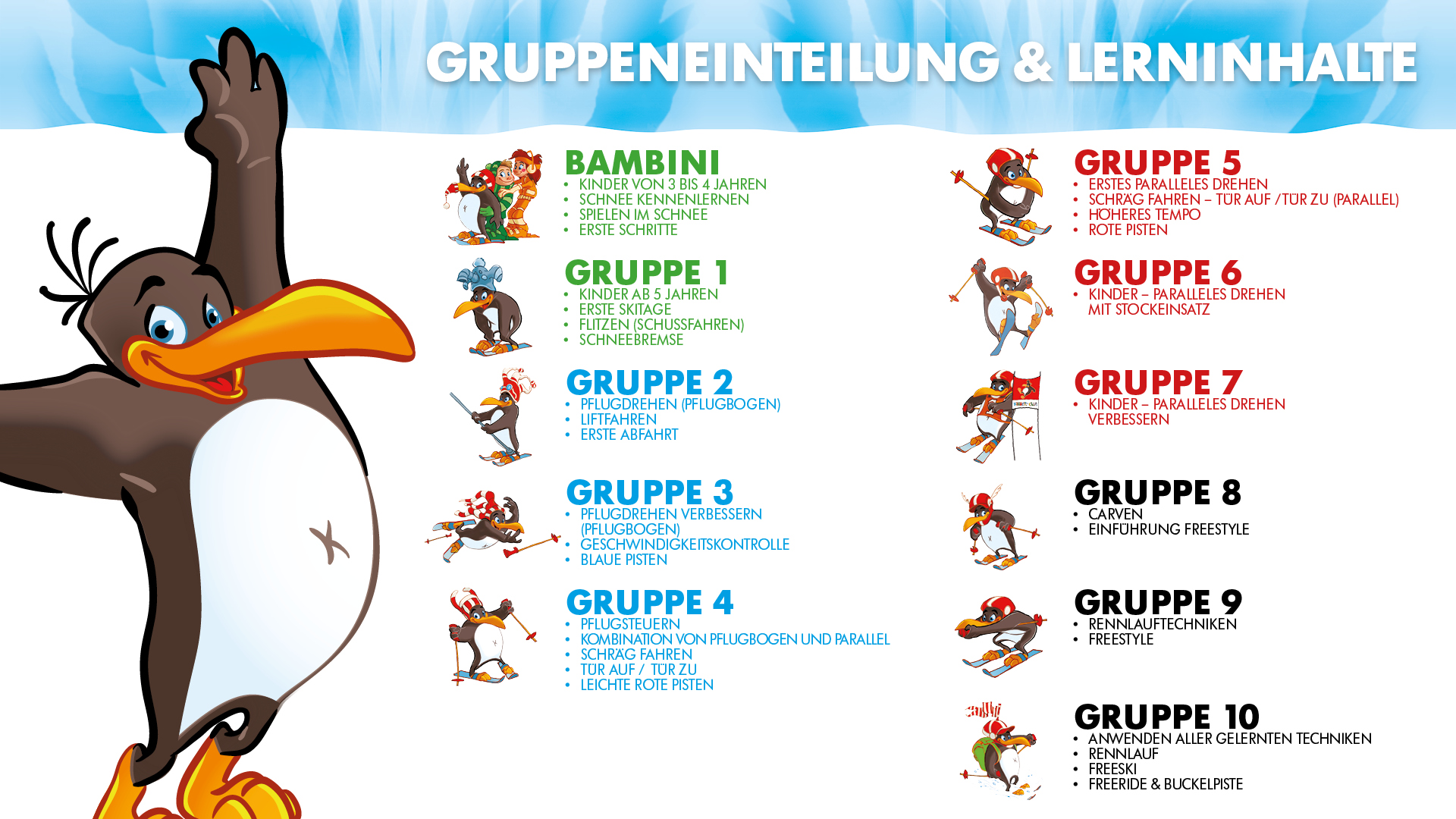 Based on the videos, the parents can classify their children in advance in the right performance group. This helps us to simplify the organizational effort involved in grouping, and the on-site division work becomes more efficient. In many cases the division into groups is based on the age of the children.
Group 1 - green - bambini
Group 1 - green - beginner
Group 2 - blue - slightly advanced
Group 3 - blue - slightly advanced
Group 4 - blue - slightly advanced
Group 8/9/10 - black - expert/professional
Snowboard
(all ages, both children's group lessons and 1:1 coaching - private guiding)
Level
Description
beginner

This is my first time on a snowboard.
Snowboarding is not completely foreign to me, I have already tried it. However, I still feel very insecure, it's hard for me to make turns.

slightly advanced

I feel comfortable on blue slopes, I can make turns to the left and to the right. It would be nice if I could snowboard my turns a little more fluidly and soon be able to snowboard red runs.

advanced

blue and red slopes are no problem for me, now I would like to tackle the black slopes and / or gain first deep snow experience.
Switching turns is difficult for me, slopetricks I have not yet mastered, but I want to learn.
I would like to gain the first experiences in the fun park.

pro's

I can ski all slopes (blue, red, black), powder descents are the greatest for me.
I already know some slopetricks, but in this area I want to improve, learn new tricks and develop my own style.
Kickers and rails fascinate me. I want to push myself further and learn new jumps and tricks.